[highlight]Leia em Português[/highlight]
One of the most authentic experiences I had in Guatemala happened in San Andrés Itzapa, a small city around Antigua. I was with my Spanish teacher Francisco and we took a "chicken bus" to a place known by the devotion of San Simón, a kind of pagan saint beloved by Guatemalans. The ceremony was an excellent opportunity to see the religious syncretism so strong in Latin America. Catholic elements such rosaries and candles mix with indigenous religion represented by incenses and offers.
The churchgoers of Itzapa hire shamans to perform the ceremony, which is to group the elements in a small circle for been burned in honor to San Simón. Smoke's color changes according to ingredients used and the goal of the offering. My teacher said the shade of gray means that it is for the good of someone. On the other hand the shade of black means that it is for the bad of someone. On that day we saw both colors around the temple. Another curiosity was to observe a parallel worship outside the church. People who don't have money to hire a shaman made themselves their offering. These two women kindled a big cigar, they prayed and asked San Simón for relief.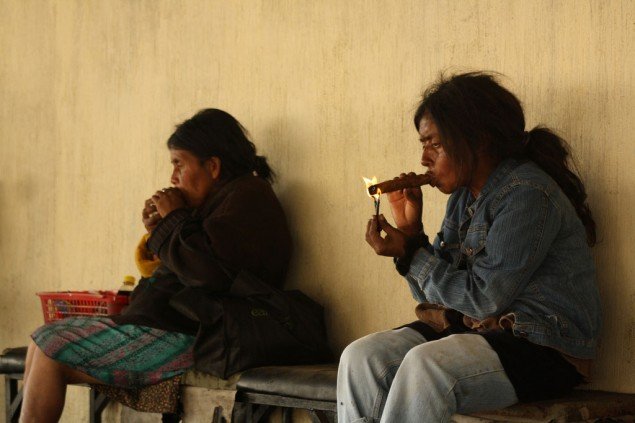 © All rights reserved. Pictures and report 100% originals.
Translated by Lúcia Maciel
English teacher