[highlight]Leia em Português[/highlight]
When I saw a friend's pictures on the internet, I thought "Hey! What is this place? It looks like the island in The Blue Lagoon… where is Brooke Shields?" But it was not a Hollywood movie set, neither a photoshop effect, like I believed. The paradise with clear blue water and white sand on the pictures is Los Roques, Venezuela.
The archipelago, formed by big islands and cayos (small islands) protected from outer barrier reef, is a National Park. It is the biggest marine park in Latin America, and that is why it is well preserved, keeping a rustic and natural look, very different from the rest of the Caribbean.
The water has a pleasant temperature and different hues as you go deeper. It houses a great variety of corals, fish and aquatic plants able to seduce fearful and clumsy tourists, like me! By the way, good visibility is a strong feature in this place that attracts ordinary people and professional divers –in the open sea, small bays or gorgeous natural pools with lots of fish.
But the beauty is not restricted to deep waters: many birds live in perfect harmony with local residents. Pelicans, seagulls, boobies (atobás) and other marine birds like sparrows and doves of Los Roques, almost tamed! The color of the main island – Vila De Gran Roque – with several sailboats and the rock formation with a lighthouse is like a painting for the newcomers.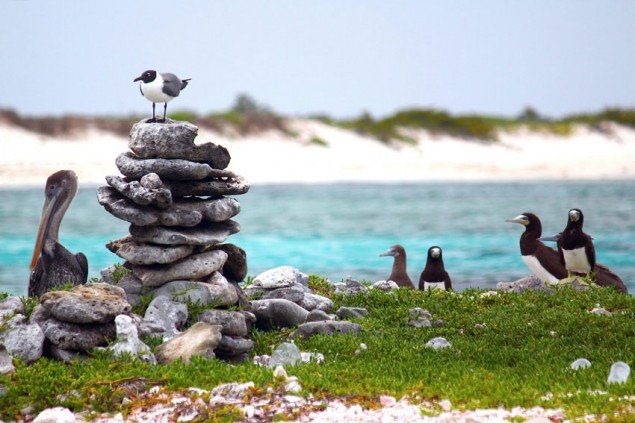 Los Roques is one of the most beautiful beaches in the world, beyond a shadow of a doubt – you cannot miss it and you must go a second time! I am already dreaming about going back soon, hopefully. However, no detailed text can accurately describe the beauty of the place. Look at some pictures. If you type 'Los Roques' in the oracle (Google!), there are hundreds of images to make you drool! Oh, my friend from the pictures has been there three times. Need to say more? Have a nice trip!

Take Note
How to get there: a good way is to fly to Caracas with your air miles, either by Gol or Tam. When you get off the plane, take another one to Los Roques – at the same airport. There are few and little air companies that make this route every day, so it is worth it to buy the ticket in advance. And watch out: you can enter the island with only 10kg of luggage! It may sound impossible for the women, but believe me: you do not need much to enjoy this tour to the fullest.

Where to stay: we suggest two different types of accommodation, we had great treatment (and food!) in both. The first one is Turpial, a 49-feet long sailboat with two booked rooms, very comfortable. It is a great option for those who want to have breakfast watching the turtles and seagulls, without wasting any minute to go for a swim and enjoying the best of each island in Los Roques
([email protected]). The second one is Sol and José's Pousada La Casa Del Sol: a more affordable option, no less comfort than the other. The owners are really hospitable; they were friendly and cooked very well ([email protected]).

What to take: besides sunscreen with a good SPF, a mosquito repellent is necessary. There are tiny bugs in the islands that can do real damage to your legs. Besides, you should take a T-shirt (to be more protected when diving), your own flippers, goggles, snorkel and a water-proof camera.
Translated by Lúcia Maciel
English teacher
© All rights reserved. Pictures and report 100% originals.