[highlight]Leia em Português[/highlight]
By Clarrissa Ribeiro
There are many options to spend New Year's Eve: New York, Paris, Rio de Janeiro… all very interesting, but I will tell you a little about the New Year's Eve I spent in Aconcagua.
We had a 3-day trekking in Aconcagua Provincial Park, a magnificent place. Wherever you look, you are surrounded by mountains of extreme beauty. After all, you are in the Andes!
The first day we went up to the base camp, called Confluencia at an altitude of 3.400 m. There is the lodge where I spent both nights – there are tents, dining hall, bathroom and all the necessary support for hikers.
On the second day, the goal was to reach Plaza Francia (4.000 m altitude). It was a tough day; the strong wind made the trekking slower, but every step up the mountain was rewarded with the great view of the south face of Aconcagua.
New Year's Eve came with a great meal and, of course, alcohol-free champagne. It was the perfect moment to make new friends, as the place receives people from all over the world.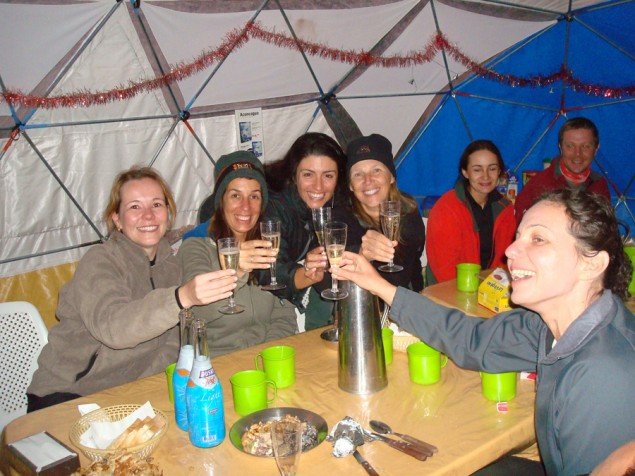 On the third and last day in the park we came back. That is when you get the feeling of mission accomplished and realize how much people are touched by this place. From this moment on, either you were caught by the "mountain mosquito" and will plan an ascent to the summit (6.959 m), or you will enjoy a couple more days in charming Mendoza
Take Note
Trekking or climbing in Aconcagua Provincial Park requires permission, as well as signing a term of responsibility for any accident which may occur within the park. This must be done in person on Las Tipas St. and Los Robles Ave., in General San Martín Park, Mendoza – Mon to Fri, 8 to 6. Saturday, Sunday and holidays from 9 to 1. For further information call 4-252031 or send an e-mail to
[email protected]
© All rights reserved. Pictures and report 100% originals.
Translated by Lúcia Maciel
English teacher