The second destination that receives foreign tourists in Brazil is also thought to be one of the most multicultural cities in the country, with over seventy-two ethnic groups from all around the globe. There, everyone either came from somewhere else or is a descendant.
The text continues after the recommended services at the destination.
Top attractions in Foz do Iguaçu
Rent a car in Brazil
Find a hotel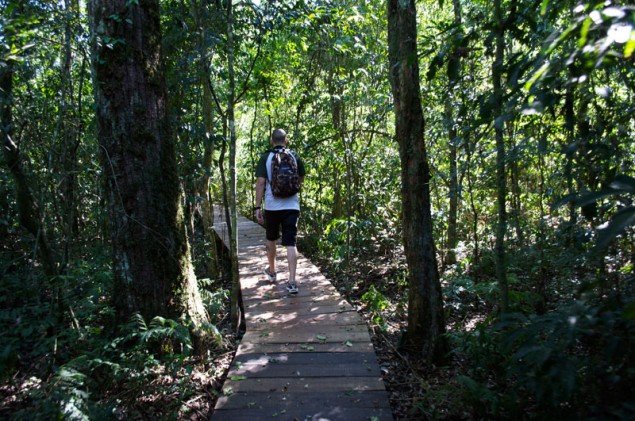 Located at the meeting of two great rivers, Iguaçu and Paraná, Foz do Iguaçu is not only about Waterfalls and Itaipu. It is a place for those who enjoy extreme sports, shopping, good food, party and nature – almost everything with a first world structure. In the parks you can get close to nature and experience it safely, with easy access and a remarkable concern to preserve. It has one of the largest forest reserves in South America and several outdoor activities.
A good way to know the city is the City Tour. In a few hours I went to the main streets, found out why the paving is red at Brazil Ave., where the ground zero is, where to buy handicraft and lots of local stories. I got into a mosque for the first time and learned that Foz do Iguaçu has the largest Islamic community in Brazil. To end the morning I saw three countries altogether, visiting the Three Borders Landmark.
The city also houses the Chinese Buddhist Temple, one of the biggest in Brazil, with over a hundred statues of different divinities – including the 7-metre high Buddha; a pleasant place for a break between activities. One worthwhile night attraction is Iporã Legend Show, a performance that tells the legend of the Waterfalls and shows typical dances from Argentina and Mexico.
Foz do Iguaçu is full of nice surprises and ready to welcome all kinds of travelers. One of the things I liked best in this second visit was to know the local residents, the people. The impression and experience has greater value when we are received with all hospitality and human warmth.
Take Note
Three Borders Landmark is open daily from 9 to 6:30.
The Buddhist Temple is open from Tue to Sun, 10 to 5 – near the Visitors Centre in Itaipu.
Iporã Legend Show from Mon to Sat at 10pm.
Shopping is not only in Paraguay, there is handicraft and precious stones in Foz, besides a large commerce at Brazil Ave. (remodeled to be an open mall with places to rest and kiosks), and all the conveniences at Cataratas Jl Shopping.
There is accommodation for all styles and budgets, from resorts to hostels. I stayed at Bella Italia Hotel, and also recommend Águas Do Iguaçu, from the same hotel chain.
The highlight at Bella Italia is the breakfast and hospitality.
Daily City Tour from 9 to 12, R$ 49,90 – book with Loumar. Have lunch at Bufalo Branco, there is a discount if you have taken the city tour.
Sponsored trip.
© All rights reserved. Pictures and report 100% originals.
Translated by Lúcia Maciel
English teacher