In September, I spent a week in Tocantins for the Adventure Bloggers Jalapão. It was just what I expected, but better: I found comfort I did not think of and friends in total sync. I already knew the bloggers and the trip brought us even closer; Mauro, the guide, and all the team in Korubo were exceptional and I already miss them and the new traveling friends we made there.
Jalapão is one of the most inhospitable places in Brazil, the only destination ready to reveal breathtaking experiences when explored more deeply. Whoever rides the terrible roads – where even 4×4 get bogged down – cannot imagine the hidden beauties in the area. The dry and unbearably hot cerrado gives way to green oasis, colorful flowers, dunes, hills, waterfalls and crystal clear rivers.
The discomfort of the heat, mosquitoes and hours on the road is completely rewarded and forgotten when we see the details around us. Through the truck window, macaws, toucans, foxes, emus and other animals that ran by and delighted us, like the golden sunsets when everyone fought for the four seats at the top.
We spent seven days passing by Palmas, Mateiros, Ponte Nova, the Korubo farm and the best attractions in Jalapão. That is, I have a lot to tell. For now, stay with the vídeo teaser and some pictures. In the next weeks I tell you everything you need to know to go on this super cool trip.
Take Note
Jalapão is called a desert for its population density. There are only twenty-six thousand residents in thirty-four square kilometres, comprising eighty cities.
It is named after the jalapa potato, not the flower like some say. There, the potato is diced and kept in a jar with cachaça. When the locals drank too much, they asked for "jalapão", the large version of the drink.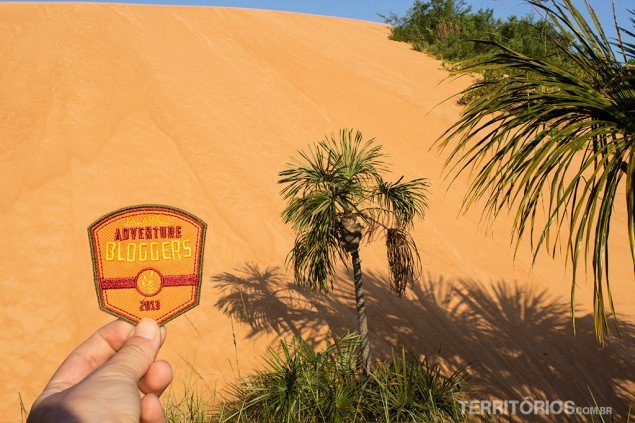 Sponsored trip
Adventure Bloggers
© All rights reserved. Pictures and report 100% originals.
Translated by Lúcia Maciel
English teacher